The Benefits of Cable Ties
Apr 28,2023 / in Blog / 2022 ACRHT.
Are you tired of struggling with tangled cords and messy wires? Are you looking for a simple, cost-effective solution to organize your cables and streamline your operations? Look no further than cable ties, the versatile and reliable fasteners that are essential for any industry.
Cable ties
have a wide range of applications in a variety of industries, including electronics, construction, automotive, and more. They can be used to:
* Bundle and organize cables and wires
* Secure hoses, pipes, and other components
* Attach signage, banners, and other objects to structures
* Temporarily repair equipment and machinery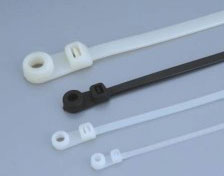 The Benefits of Cable Ties
Cable ties, also known as zip ties or wire ties, are simple devices that consist of a thin, flexible strip of nylon or plastic with a one-way ratchet mechanism. They can be quickly and easily secured around a group of wires or cables to hold them in place, preventing tangles and reducing the risk of damage or accidents.
Prev News:How do you manufacture a cable tie?
Next News:What is a good LED flood light?