How do you manufacture a cable tie?
May 08,2023 / in Blog / 2022 ACRHT.
If you're a cable tie manufacturer looking to create high-quality cable ties that meet your customers' needs, you need to understand the manufacturing process thoroughly.
Step 1: Gather the Necessary Materials and Equipment
Before you start the manufacturing process, you need to gather all the necessary materials and equipment. You'll need:
* Nylon granules
* A cable tie mold
* An injection molding machine
* A conveyor belt
* Cutting tools
* Quality control equipment
Step 2: Create the Mold
To create the mold, you'll need to work with an experienced tooling company to design a mold that meets your specifications. The mold will determine the size and shape of the
cable tie
, so it's essential to get it right.
Step 3: Heat and Inject the Nylon Granules
Once you have the mold, you'll need to heat and inject the nylon granules into the mold using an injection molding machine. The temperature and pressure used will depend on the type of nylon being used.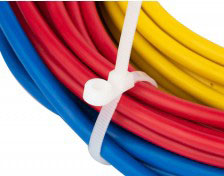 Step 4: Cool and Release the Cable Tie
After the nylon granules have been injected into the mold, they'll need to cool and solidify to form the cable tie's shape. Once the cable tie has hardened, it will be released from the mold and placed on a conveyor belt.
Step 5: Trim the Cable Tie
Once the cable tie is on the conveyor belt, it will be trimmed to its final length using cutting tools. The excess nylon is then recycled and reused in the manufacturing process.
Step 6: Quality Control
Quality control is crucial in the cable tie manufacturing process. The cable ties will be inspected using quality control equipment to ensure that they meet the necessary strength and durability standards.
Step 7: Packaging and Shipping
Once the cable ties have passed quality control, they'll be packaged and shipped to customers. The packaging will depend on the customer's requirements, but cable ties are typically sold in bags or boxes.
If you're looking for a reliable and experienced
cable tie manufacturer
, look at our company! We're committed to providing high-quality cable ties that meet your needs and exceed your expectations. Contact us today to learn more about our products and services.
Prev News:What are cable ties used for?
Next News:The Benefits of Cable Ties