What are cable ties used for?
May 15,2023 / in Blog / 2022 ACRHT.
Cable ties, also known as zip ties or wire ties, are ingenious fastening devices designed to securely hold items together. They consist of a flexible strap, usually made of nylon or plastic, with a small ratchet mechanism at one end. This mechanism allows for easy insertion and tightening of the tie, ensuring a firm grip and preventing slippage or loosening over time.
Versatile Applications of Cable Ties
Organizing Cables and Wires: Cable ties are extensively used to tame the unruly mess of cables and wires found behind TVs, computers, and entertainment systems. By bundling them together, cable ties keep cords neat, untangled, and easily identifiable.
Securing and Bundling Objects: Whether you're a construction professional, an electrician, or a DIY enthusiast, cable ties offer a reliable solution for securing and bundling objects. From securing fence wires and scaffolding to bundling tools, cables, or even plants in the garden, cable ties are essential for maintaining order and safety.
Packaging and Shipping:
Cable ties
are a popular choice for packaging and shipping. They securely hold boxes and parcels together, preventing them from opening during transit and ensuring the safe delivery of goods.
Temporary Fixes and Repairs: In emergency situations, cable ties can be a lifesaver. They can be used for temporary fixes, such as holding broken parts together until a permanent solution is found. From mending broken shelves to reattaching car bumpers, cable ties offer a quick and reliable solution.
Creative and Artistic Applications: Cable ties have found their way into the world of art and design. Artists and creators use them to construct sculptures, installations, and even fashion pieces. The flexibility and durability of cable ties allow for unique and imaginative creations limited only by one's imagination.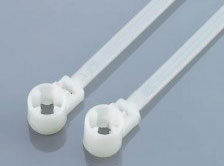 Choosing a Reliable Cable Tie Manufacturer
When it comes to cable ties, choosing a reliable and reputable cable tie manufacturer is crucial. Here's why:
Quality and Durability: A trusted
cable tie manufacturer
ensures that their products are made from high-quality materials, guaranteeing their durability and longevity. This is particularly important in applications where safety and security are paramount.
Variety and Customization: Reputable manufacturers offer a wide range of cable tie options to meet diverse needs. From different sizes, colors, and materials to specialized ties for specific industries, a reliable manufacturer can provide tailored solutions for your requirements.
Compliance and Certification: Top manufacturers adhere to industry standards and regulations, ensuring that their cable ties meet the necessary certifications for safety and performance. This is especially crucial in sectors such as aerospace, automotive, and electrical, where stringent quality control is essential.
Expert Advice and Support: Choosing a reputable cable tie manufacturer means gaining access to expert advice and technical support. Their knowledgeable staff can help you select the right cable tie for your specific application and guide you on proper usage and installation.
Prev News:Top Reasons to Choose a Reliable Cable Tie Manufacturer for Your Business Needs
Next News:How do you manufacture a cable tie?