Why do LED flood lights fail?
Jun 11,2023 / in Blog / 2022 ACRHT.
LED flood lights have gained immense popularity in recent years due to their energy efficiency, long lifespan, and superior lighting quality. However, like any other electronic device, LED flood lights are not immune to failure. Understanding the reasons behind LED flood light failures is crucial for both consumers and manufacturers.
1. Inferior Component Quality
One of the primary reasons for LED flood light failures is the use of inferior components during manufacturing. Some manufacturers, driven by cost-cutting measures, compromise on the quality of critical components such as LED chips, drivers, and heat sinks. These subpar components can't withstand the rigorous demands of prolonged operation, leading to premature failures.
2. Inadequate Heat Dissipation
Heat dissipation is a crucial aspect of LED flood light performance and longevity. When LED chips generate light, they also generate heat. If the heat is not dissipated effectively, it can accumulate and cause the
LED flood light
to overheat, resulting in reduced lifespan and eventual failure. Insufficient heat sinks, poor ventilation, or improper installation can impede heat dissipation, making the LED flood light vulnerable to failure.
3. Overdriving the LED Flood Light
While LED flood lights are designed to operate within specific voltage and current limits, some manufacturers may overdrive them to achieve higher brightness levels. Overdriving can cause excessive heat buildup, accelerating the degradation of the LED chips and other components. This can significantly reduce the lifespan of the LED flood light and increase the likelihood of premature failures.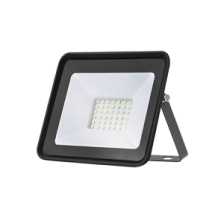 4. Environmental Factors
LED flood lights are often exposed to harsh environmental conditions, including extreme temperatures, moisture, dust, and vibrations. These factors can impact the performance and reliability of the lights. Low-quality LED flood lights that are not adequately sealed or protected against environmental elements are more susceptible to failure, especially in outdoor applications.
5. Lack of Quality Control
Manufacturers who prioritize quantity over quality may neglect rigorous quality control processes. Without proper testing and inspection, LED flood lights with defects or inconsistencies can end up in the market. These lights may appear to function correctly initially but are prone to failure in the long run. Choosing a reputable
LED flood light manufacturer
with stringent quality control measures is essential to ensure reliable and durable products.
Prev News:What are the different types of LED flood lights?
Next News:What is the lifespan of an LED flood light?