Metric Metal Cable Gland
Material: Brass with nickel plated.
Usage: Used for fixing cables and provide effective protection against dust, oil, water penetrating electrical distribution box, electromechanical control panel and other instruments. Innovative design for seal and clamp, wide clamp range, strong resistance against tensile strength and thus it can protect cables effectively.
Specifications
Item No.
Cable Range
Outer
Diameter of
Thread(mm)
Mounting
Hole Diameter
(mm)
Thread
Length
GL(mm)

Iengthened
Type
GL(mm)

Jiont
Length
H(mm)
Spanner
Size
(mm)
M8×1.25
4-2
8
8-8.2
5
7
16
11
M10×1.5
6-3
10
10-10.2
5
7
16
12
M12×1.5
6.5-3
12
12-12.2
7
10
19
14
M14×1.5
8-4
14
14-14.2
7
10
19
18
M16×1.5
8-4
16
16-16.2
8
10
20
18
M18×1.5
10-5
18
18-18.2
8
10
21
20
M20×1.5
12-6
20
20-20.2
8
15
22
22
M22×1.5
14-10
22
22-22.2
8
15
23
24
M24×1.5
14-10
24
24-24.2
9
15
25
24/27
M25×1.5
14-10
25
25-25.2
9
15
25
24/27
M25×1.5
18-13
25
25-25.2
9
15
27
30/27
M27×1.5(2)
18-13
27
27-27.2
9
15
27
30
M28×1.5(2)
18-13
28
28-28.2
9
15
27
30
M30×1.5(2)
18-13
30
30-30.2
9
15
29
30/32
M32×1.5(2)
22-15
32
32-32.2
10
15
29
35
M33×1.5(2)
22-15
33
33-33.2
10
15
29
35
M36×1.5(2)
25-18
36
36-36.2
10
15
31
40
M37×1.5(2)
25-18
37
37-37.2
10
15
31
40
M40×1.5(2)
25-18
40
40-40.2
11
15
31
40/45
M40×1.5(2)
30-22
40
40-40.2
11
15
35
45
M42×1.5(2)
30-22
42
42-42.2
11
15
35
45
M47×1.5(2)
33-25
47
47-47.2
11
15
37
50
M48×1.5(2)
33-25
48
48-48.2
11
15
37
50
M50×1.5(2)
38-32
50
50-50.2
12
15
37
57/55
M54×1.5(2)
38-32
54
54-54.2
12
15
38
57
M56×1.5(2)
38-32
56
56-56.2
12
15
38
57/59
M60×1.5(2)
44-37
60
60-60.2
13
15
38
65
M63×1.5(2)
44-37
63
63-63.2
13
15
38
65
M64×1.5(2)
44-37
64
64-64.2
13
15
38
65/68
M72×2
52-42
72
72-72.2
15
20
42
77
M75×2
52-42
75
75-75.2
15
20
42
77
M80×2
62-55
80
80-80.2
15
20
45
90
M88×2
70-65
88
88-88.2
15
20
45
94
M100×2
84-78
100
100-100.2
15
20
45
110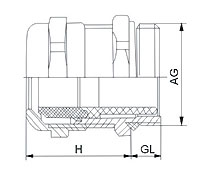 Inquiry for Our Products

ACRHT CO.,Ltd.
Email: info@acrht.com
Can't find the specific information you're looking for? Have a question ? Contact Us