Garden Plastic Zip Tie Manufacturer
Material: Polythylene PP.
Usage:Bind, but loosen again repetition usage of general mains lead,gardens,flowers and trees.
Specifications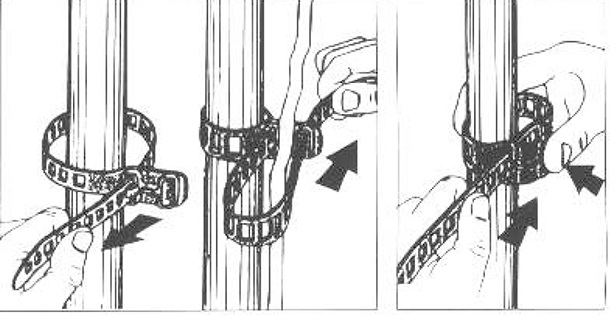 We are pleased to introduce our Garden Plastic Zip Ties. As a professional manufacturer, we are committed to providing high-quality, durable, and versatile gardening solutions. Our Garden Plastic Zip Ties are an ideal choice to help you easily manage and maintain your garden, plants, and other outdoor projects.
Features and Benefits:
High-Qua

lity Material: Our Garden Plastic Zip Ties are made from premium plastic materials, offering excellent durability and resistance to weathering. This means they can withstand outdoor conditions and maintain a long service life.

Strong Fastening: Our zip ties are designed with a unique locking mechanism, providing reliable fastening to securely hold your plants, flowers, and other items in place. They have excellent tension and fastening capabilities, ensuring a secure hold without slipping.

Easy to Use: The Garden Plastic Zip Ties feature a convenient self-locking mechanism, making them incredibly easy to use. Simply thread the tie through the eyelet, gently pull, and they will securely lock in place. If you need to adjust positions or replace plants, they can be easily cut off.

Versatile Applications: Our Garden Plastic Zip Ties have a wide range of applications in gardens, fields, greenhouses, yards, and outdoor landscapes. They can be used for securing plants, fixing water pipes, organizing wires, managing cables, and bundling other items that require fastening.

Waterproof and Weather-resistant: Our zip ties are specially treated to be waterproof and weather-resistant. Whether in the rainy season or under sunlight, they maintain excellent performance without being affected by moisture or UV rays.

Various Sizes: We offer a variety of sizes and lengths of Garden Plastic Zip Ties to meet the specific needs of different projects. You can choose the appropriate size and color based on your requirements.
Whether you are a gardening enthusiast or a professional gardener, our Garden Plastic Zip Ties will be your ideal choice. They are sturdy, easy to use, and will help you manage and organize your garden and outdoor spaces effectively. Contact us now to learn more about our Garden Plastic Zip Ties and start enjoying the convenience and efficiency of gardening!
Inquiry for Our Products

ACRHT CO.,Ltd.
Email: info@acrht.com
Can't find the specific information you're looking for? Have a question ? Contact Us